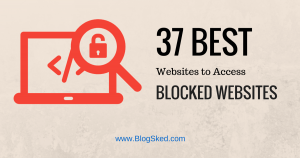 Free proxy sites can help you to access blocked websites. If you are in trouble with opening some websites,including Facebook,Youtube or Twitter, then proxy servers are here for solution.
Pros of Using Free Proxy Sites and Servers
There are tens of reasons why you should and have to use proxy websites. Whether the site is blocked by your ISP (Internet Service Provider) or your IP has been blocked and many others. Also,you maybe a student that your school or college administration has blocked access to social networks. Moreover, employers love to block many kinds of sites in fear that workers won't be productive enough. In addition to these reasons, also parents use firewalls to restrict access to some sites because of their children.
To tell the truth, the causes above are clear enough. And you have to follow the guidelines,despite the fact you are a student, an employee or a family member.
Here are few benefits of free proxy websites
They are Free,means you don't need to pay money to use them.

Gives you access to majority of restricted servers,sites,services.

Hides you real IP address,making your connection more secure.

Semi-anonymously browse online and download files
Cons of Using Free Proxy Sites and Servers
Just like any other services,free has limits. No one will spend thousands of dollars to protect your online privacy and give you a total anonymity for free. So,never believe in stories that free proxy services makes your connection 100% secure and anonymous. Instead,you may spend few bucks like $4-5 a month and purchase a reliable VPN subscription, from Hidemyass.com or IpVanish.com (see 30% OFF coupon)
Disadvantages of web based free proxy servers
You are not 100 percent anonymous

Annoying ads while browsing. ex:pop under

Some bigger sites can't be bypassed

Websites are opened through an iFrame

And tons of more if you seriously take care of the privacy and anonymity

Now, let's dive into the list of free proxy sites which includes 37 best services. I am going to update this list regularly to give the best resource for the community.

Hide My Ass

– https://www.hidemyass.com/proxy

Hide Me

– https://hide.me/en/proxy

Proxy Free

– https://www.proxfree.com/proxy
Proxy Site – https://www.proxysite.com
VPN Book – http://www.vpnbook.com/webproxy
Cyberghost – http://www.cyberghostvpn.com/en_us/proxy
Kproxy – https://www.kproxy.com
Filter – https://www.filterbypass.me
Hide – http://hideme.be
Hideoxy – http://www.hideoxy.com
Anonymouse – http://anonymouse.org
Ninja – http://ninjacloak.com
New IP – http://newipnow.com
Web Proxy- http://webproxy.net
4Ever – https://www.4everproxy.com
Just Proxy – http://www.justproxy.co.uk
Fast USA – http://fastusaproxy.com
Site2 – http://www.site2unblock.com
Incloak -https://incloak.com
UsWeb -http://www.uswebproxy.com
NNTime -http://anonymizer.nntime.com
Uas -https://uas2.com
Blew – http://www.blewpass.com
ChangeMyIP – https://www.changemyip.uk
Don't Filter – http://dontfilter.us
RX Proxy – http://rxproxy.com
Bind – http://bind2.com
You Hide – http://youhide.com
Unblock – http://unblock-proxy.com
Yellow – https://www.yellowproxy.net
Boom – http://boomproxy.com
ProxyOne – https://www.proxyone.net
Access – http://accessproxy.org
Zalmos – http://www.zalmos.com
Proxy Browsing – http://proxybrowsing.com
Zen44 – http://www.zen44.com
Mega – https://www.megaproxy.com/freesurf
I will do my best to extend the list of free proxy sites regularly. If you got some good proxy sites, please let me know by posting a comment below.
This post contains affiliate links to products. I may receive a commission for purchases made through these links.